Senior Relocation & Transition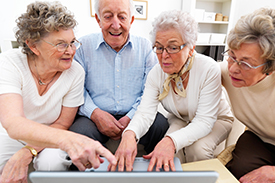 The benefit of downsizing is once you organize your home, then you organize your life. When you create space in your home, you also create space in your life! Residential Liquidation provides senior transition services for those looking to downsize.
By investing the time needed to scale back your possessions, you are on the road to creating a new lifestyle that not only functions better, but is easier to maintain.
Before you start to downsize do some research first. There are several blogs and websites that offer valuable advice on reducing or scaling back your belongings, and how to budget for the things that you'll find you need after you move.
Some basic tips you should consider first for Senior Transition Services
Start in an area of the house with the least amount of belongings. This will give you a sense of accomplishment instead of allowing yourself to be distracted by trying to tackle the largest headaches first.
Let your friends and family know that you're downsizing back. You never know the amount of help you may get without asking for it.
Draw up an inventory list with photos and e-mail or give a copy to your family members, with three check boxes: Must Have! Would Like. Pass. Tell them to fill out the boxes because they may be the lucky new owners.
If a room is too overwhelming, assign yourself one or two small projects to sort through one-by-one then quit for the day.
Remind yourself of moving costs. You'll save money by moving less, and your new residence will look more spacious and inviting.
Easy tosses and donations: Old magazines, books, lawn and gardening supplies, canned goods, spices, clippings, cleaning supplies, old bills and receipts.
Shred all old personal documents except the most essential including financial plan, estate plan, medical and insurance records, personal information.
Anything you think has some value set aside for later sale, you never know you may have a hidden gem!